Silver Grain
Silver Grain is Germania Mint's investment product released in 2021. It is available in 1000 g specially designed capsules, secured with hologram seals and labeled with product specification. The capsules are packed in a Qureco safety box – a 100% ecological cardboard packaging, made with no use of glue or tape.
Silver in this form is very useful to artisans, craftsmen and in many types of industrial processes – from jewelry making to high tech components, needing an extremely conductive and corrosion-resistant metal inside (such as electronics or medicine industry).
Germania Mint's Silver Grain comes only from LBMA certified sources, which guaranties its purity, originality and highest quality.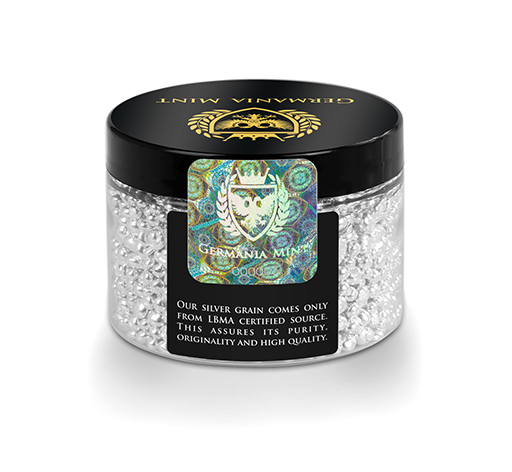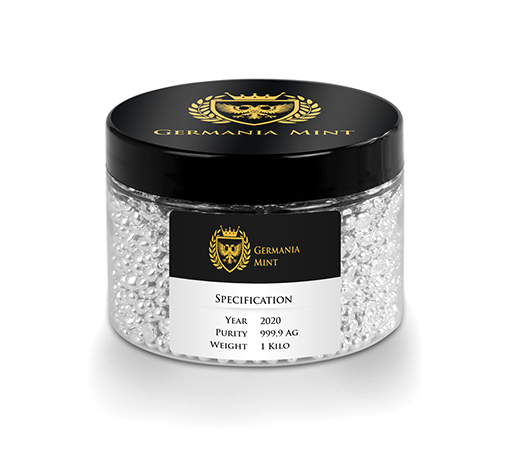 The 10 Kilo Grane is placed in a solid plastic bag, which protects the silver from external factors. A special seal with a hologram and product specification guarantees its originality. The bag is placed in a black canvas sack with the Germania Mint logo.
Silver Grane is a primary resource used by craftsmen and artists to create jewelry. It is also indispensable in many industrial processes, such as the production of high-tech components that require a well-conductive and corrosion-resistant metal.
The superior quality of 999,9 fine silver is assured by sourcing it exclusively from LBMA certified sources.