COPPER CAST BARS
Germania Mint presents its latest original investment product – Copper Cast Bars.

There is a reason we chose this precious metal in particular. Already the ancient inhabitants of Germania made peculiar ornaments and tools out of copper, which often ended up in their graves after death. Commemorating the god Frey, brother of Freyja, his tomb was still filling with valuable objects years after his death.

Pure copper is orange-red in color and darkens as it naturally oxidizes, retaining its properties. Since the metal is highly malleable, it looks phenomenal in the form of cast bars from Germania Mint. For their production, we source 999.9 copper grain directly from KGHM – the largest producer in the region.

The bars are double-protected with individual numbers and coded holograms, which can be verified in Germania Mint's product database. To protect them from external conditions, they are individually vacuum-packed and placed in specially designed boxes.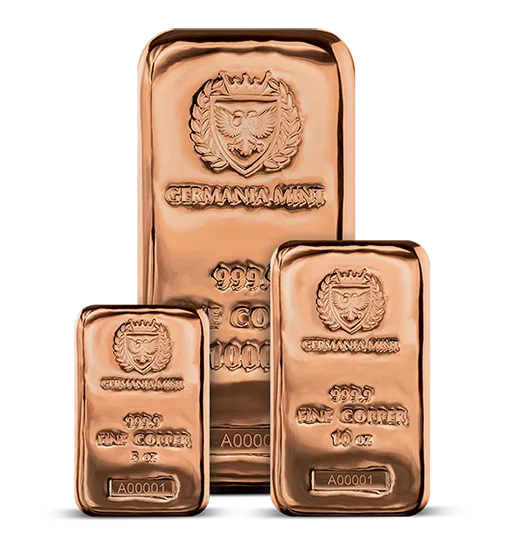 GRAM COPPER CAST BARS
| | | | | | | | |
| --- | --- | --- | --- | --- | --- | --- | --- |
| | Metal content | Purity | Dimensions: | Mintage | Finishing | Availibility | DOWNLOAD |
| Copper Cast Bar 1000 g | 1000 g | 999.9 Cu | 115,80 x 55,80 x 19,68 mm | Unlimited | Numbering, hologram | Available | Marketing Materials↓ |
By continuing to use the site, you agree to the use of cookies. więcej info
The cookie settings on this website are set to "allow cookies" to give you the best browsing experience possible. If you continue to use this website without changing your cookie settings or you click "Accept" below then you are consenting to this.